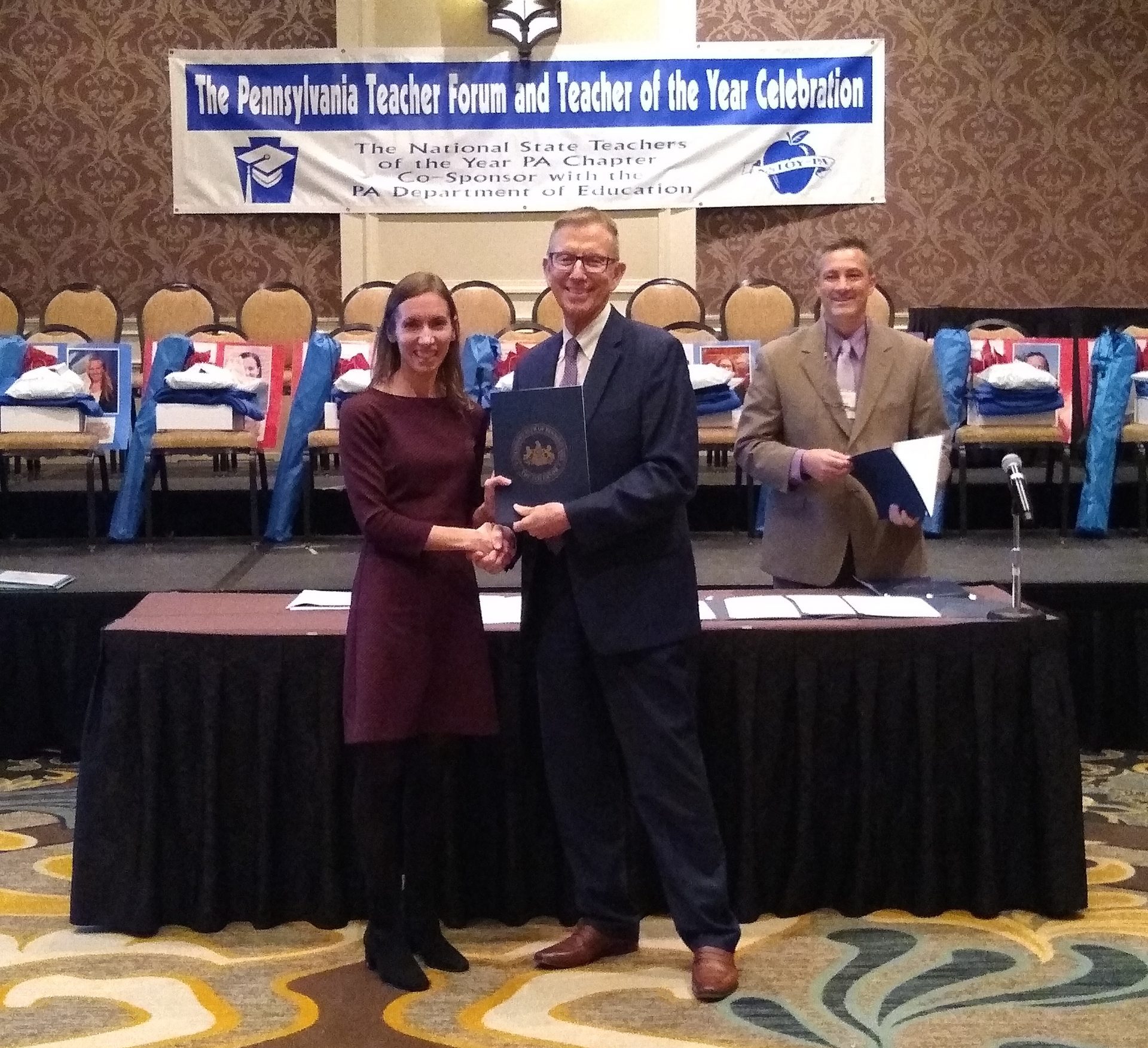 Ambridge Elementary STEAM teacher, Mrs. Nicole Darroch, was recognized this week as a finalist for the Pennsylvania Teacher of the Year award in Harrisburg. The Pennsylvania Teacher of the Year Program recognizes excellence in teaching by honoring K-12 teachers in public education who have made outstanding academic contributions to Pennsylvania's school-aged children.
Twelve (12) finalists are selected from applicants and recognized in Harrisburg each fall. The finalists then participate in interviews and submit a recorded teaching episode that exhibits effective instructional strategies.
Mrs. Darroch was accompanied by Superintendent Dr. Joseph Pasquerilla and Second Grade Student Chase Szuchy. Chase was a student presenter and spoke at the event.
Mrs. Darroch' s biography reads, "Learning becomes visible when Nicole Darroch is teaching.  Nicole is a PK-5 STEAM educator at Highland and State Street Elementary Schools. Her primary motivation is to build collaboration, communication, creativity, and critical thinking skills into her classroom lessons.  Her curriculum engages students in challenges that require them to cooperate with each other to complete various tasks.  Nicole continually goes above and beyond expectations, incorporating math concepts though innovative and fun activities.  Nicole has developed a STEAM curriculum that incorporates the essential workplace skills of technology and technical literacy.  Her students really enjoy learning the 4C concepts through engaging activities.  Nicole's teaching career has been recognized many times and Nicole has been honored as a 2019 Beaver County Educational Trust Teacher of the Year.  She has been awarded approximately $30,000 in STEAM classroom grants.  Nicole and her students are always tackling new challenges with confidence and passion."
Congratulations Mrs. Darroch!  Ambridge is so proud of you!