TITLE I SCHOOLWIDE PROGRAM APPROVAL
The Ambridge Area School District received official notification from the Pennsylvania Department of Education, Division of Federal Programs, that effective July 1, 2015 we have been approved to operate a Title I Schoolwide Program in the following schools:
Highland Elementary, State Street Elementary, Ambridge Area Jr. High School, Ambridge Area High School
A Schoolwide Program is a comprehensive reform strategy designed to upgrade the entire educational program in a Title I school.  The primary goal is to ensure that all students, particularly those who are low-achieving, demonstrate proficient and advanced levels of achievement on state academic achievement standards.
WHAT IS A SCHOOLWIDE PROGRAM?
A schoolwide program is built on schoolwide reform strategies, rather than separate, add-on services.
Serves all children in the building
Provides flexibility in spending Title I funds
Permits flexibility to combine other Federal funds in support of the schoolwide program
Focuses on results
WHAT ARE THE ADVANTAGES OF A SCHOOLWIDE PROGRAM
A schoolwide program is a catalyst for comprehensive reform of the entire instructional program
It allows educators to come together and work collaboratively
It addresses the needs of students in an integrated way
It permits Federal resources to be spent in ways that most effectively raise the achievement of students
Title I - Right To Know Documents
Federal Programs Office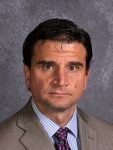 Assistant to the Superintendent, District's Safety Officer, Safe2Say Primary Contact, Right-to-Know Open Records Officer, Pennsylvania School District Liquid Asset Fund (PSDLAF) Primary Contact, Title IX Coordinator
Central Administration
724.266.2833 x2269
bking@ambridge.k12.pa.us